This is the calendar version of the Audax UK Perm, The Boat Trip which has been pressed into service to fill the gap left by Terry Lister's legendary South Bucks Winter Warmer. Terry is having a year off this year; be sure to email him to make sure he comes back next year!.
The Winter Boat Trip starts from The Wonder Cafe in Hillindon and has a pub finish at The Tichenham Inn, a Wetherspoons Pub in Ickenham, so there is a chance for a bite to eat and a pint after the ride.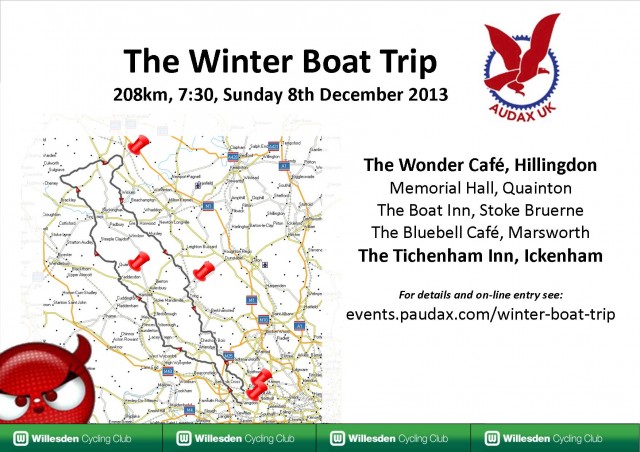 The route itself is mostly "rolling flat" on good roads, just right for a winter's day. There will be some lanes later on though so bring your lights if youre feeling tardy. We head out of town via Chalfont St Giles and Great Kingshill to Quainton Memorial Hall for 2nd breakfast served by the Quainton Hall voluntary group, then it's off to Stoke Bruerne for lunch at the canalside Boat Inn. The afternoon stop is another canelside cafe, The Bluebell Cafe at Marsworth nr Tring and then we rolling down to The Tichenham Inn for a pint to end the day. Excellent
Routesheet with rider notes and GPX, as well as entry forms are now on line on the Audax UK Website Clicky. Note that the GPS download contains two GPX files, the main route and an alternate which routes home via Chesham. The Chesham option is a bit busy for my tastes but if the weather turns then it may prove the better route.
The start and finish locations are about 2km apart, literally at opposite ends of a Long Lane. For those driving, a free car park is available near the finish point, so park there and ride down to the start. See the rider notes on the routesheet for details.
Paul Stewart