Social Events
Willesden Cycling Club arrange a few social events around the cycling events that are organised.
The Semaine Fèdèrale although not organised by the Willesden, is an annual week of social rides in France. The event moves around to a different part of the country every year. We always manage to muster a group who head over to France at the end of July. It's mostly a camping event with great cycling with wonderful scenery along with plentiful food and drink. In 2024, the event is on the last week in July. More information to follow by the WCC group leader but the website for the 2024 event  is here
We also have an annual cycling holiday to Riccione in Italy every April for 7 days. We have completed the 2023 holiday and will be planning 2024 very soon. 2024 will be the 6th time the club has visited the beautiful region of Italy in Emilia-Romagna and San Marino.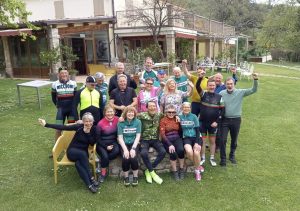 Other Social Events
2023 event will be posted here and on the blog.