The Semaine Fédérale might seem an odd choice of name for a cycling event, but it is a rather wonderful week full of cycling organised by the FFCT (Fédération Française de Cyclotourisme). The FFCT hold the Semaine Fédérale during late July or early August and it is hosted by a different region of France each year. It is a very French event and only a handful of Brits make it over there, but each year there are more of us. Mark Brooking introduced me to this event in 2009 and since then the Willesden CC have gone almost every year.
My first Semaine Fédérale was held in Saint Omer just a short drive from Calais. From the start I was highly impressed with the sheer size of the event and how extremely well it was organised. There were some 13,000 cyclists signed up for the event. We could choose from staying in digs or dormitories, but like many others we opted for the well laid out campsite specially set up for the event. It was a massive site and it seemed to contain every camper van known to France. The campsites are equipped with ample toilet and shower facilities. Though these are a bit basic, they are clean and perfect for the job (opps – unintentional pun!). If you are imagining full camper van hook-ups, on site swimming pools and wi-fi beamed into your tent, then you need to think again! However, the campsites have a good cycling vibe and a nice feeling of camaraderie .
This year's Semaine Fédérale was to be my 12th. It marked the 84th running of this annual event and the host town was the marvellous Pont-a-Mousson (PaM for short), located on the Moselle in the eastern part of France about 100km from the German Boarder. PaM has about 15,000 residents, who are known as Mussipontains, and although numbers were considerably down for this year's event, the Semaine Fédérale still boosted the population by 40%. The town is centred on the river with a beautiful main square and a magnificent abbey. We all really we all became very fond of PaM and affectionately called it Ponty.
The usual format of the week is six days of rides over various routes. Non of it is obligatory – you're on holiday after all! Each day there were four "road" rides to choose from, ranging from 55 to 160kms. All the routes are marked with arrows, plus these days a GPX file is also available. The rides are tours and are most definitely not races. You can start whatever time you want and finish when you choose. If you don't like road riding then there are Mountain bike trails that are changed each day. Still not tempted? Then how about some Gravel bike riding, there were routes for these machines too.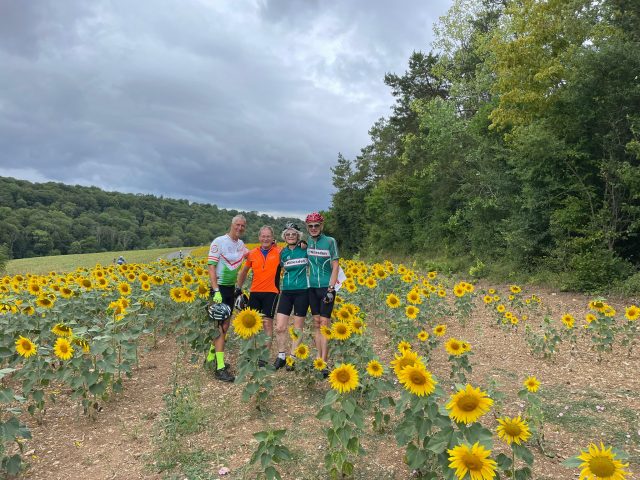 This year the Willesden had a contingent of 16. The campsite was home for 14 of us, plus the two Birch's who were in a very cushy apartment in Nancy. Most of us arrived in PaM on the Friday, giving us a couple of days to discover all the vital items we had left at home and all the non essential things we seemed to have brought instead. All tents are frequently visited by elves with long wooden spoons, which they use to stir up the tent's entire contents. After the elves call nothing is anywhere near where you left it …. and they call frequently.
The first day of riding was on the Sunday. The rides are all curated by the local cycling clubs and really show off the area to maximum effect. As it was the first day we decided to ride as a one big sleek team. There appears to be no French word for "Faff" as the French riders seem more than able to get up eat breakfast and set out on their choice of ride. They would half around the course before the faffers of Willesden managed to get both socks on. We eventually set off late morning and enjoyed a ride together.
The next day, Monday, the weather was sunny but ominously windy, a sign that things were on the turn. By Tuesday the storm had arrived and it decided to stick around for a three days. Well PaM is in Lorraine were and there was a lorra rain. Most us used this as an excuse to elbow cycling and to drive over to neighbouring cities. This usually involved a quick trip around a cathedral and possibly a market, followed by a slap up lunch of several hours. Our WhatsApp group was very active with pictures of meals, showing off beautiful starters, epic main courses and topped off by riders peering around the sides of enormous puddings. Steve Llewyn and Pete James, who are some of our newest recruits, were having none of this. They eschewed the high living and rode each day regardless of the conditions. Well done Guys – your Willesden CC initiation is now complete.
As the end of the week approached the weather improved and we enjoyed some cracking rides on the longer routes. One ride took us along an amazing traffic free bike path that was over 30kms long. It was almost as broad as a road as well as surfaced with a unique type of tarmac that doesn't have a gapping pot-hole every 10 metres (can we but this stuff for our roads please). It packed the bonus of being a former railway line, so its slopes were very leg friendly. Marianne was the star of the week, riding solo on the longest ride possible on the final day, which included a gratuitous hill of eye crossing steepness just before the finish line in PaM.
It was now Saturday night and it was time for the closing Gala dinner laid on by the organisers. The multi-course meal was superb value and it would have cost 5 times as much in a London restaurant. Our favourite cycling accordionist was there to entertain us whilst we waited for our dinner.
Most of our party returned directly home to the UK on Sunday. The rest stayed until throwing out time on Monday morning. We had various destinations in mind, but all plans seemed to involve being ensconced in luxurious French hotels with toilets that had seats and ceilings.
Miles Back