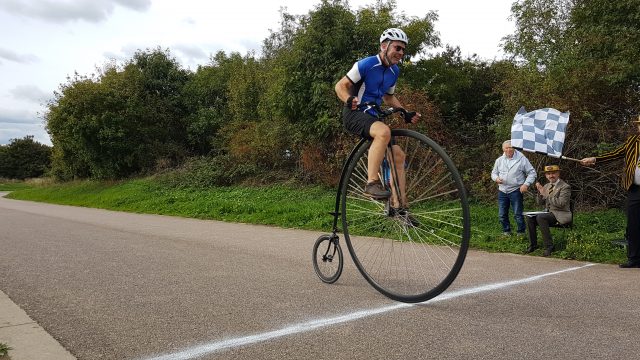 The Pennies are back at Hillingdon for another day of high wheel racing. At stake will be the British Penny Farthing Championship race trophy, donated by The Pickwick Bicycle Club. The other trophies originate from 1910 and are for riders of original Ordinaries (A.k.a. Pennies) to race over a course of one mile. They are magnificent trophies, standing 500mm tall.
The Pickwick Bicycle Club will run two races at Hillingdon Cycle Circuit, firstly for original Victorian Ordinaries, and secondly for modern Penny Farthings.  Not only is this a a great spectacle, but it is also free! So if you are free on the afternoon of Sunday 24th September 2023, then pop over to this wonderful and friendly event at the Hillingdon Cycle Circuit, 11-12 Springfield Road, Hayes, UB4 0LP, the entrance to the Hillingdon circuit is in the "Goals" car park
The Program for the day:
12 noon Cycle circuit is open for pre-race training rides together with social riding on the track for all machines.
2:00pm Start of Grand Old Ordinary race for original 19th Century machines to race one circuit of the track which is one mile.
3:00pm Start of the Penny Farthing race for more modern machines which will be for 30 minutes + 2 laps.
4:00pm Prize giving for both races