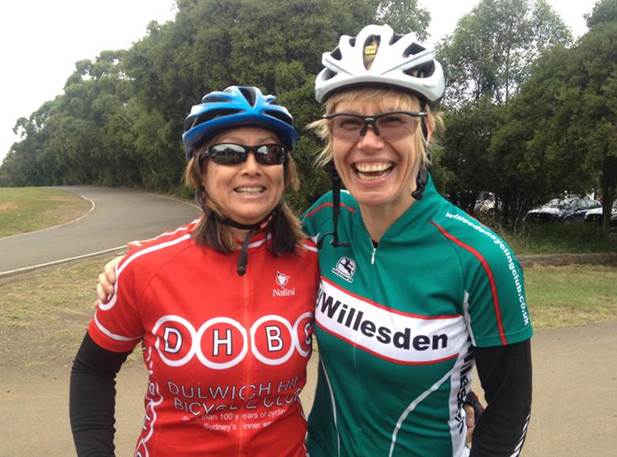 Jayne Paine's competitor and friend in Australia, Joanne Troutman, has penned the following poem about Jayne on her return to Blighty.
Joanne (or "Trouty" as Jayne calls her) said "She does talk of the club a lot and I love hearing about your annual Fryathalon races. We are so sad to lose her, especially me, but we are hoping she might be back."
"Anyway – I thought it would show her fun and ever competitive spirit and how much us Aussies will miss her."
Thanks for that Joanne – you've got a place on the Willesden CC's 2013 running of our internationally famous Fryathlon.
"Ode to Jayne" to the tune of "I'm A Believer".
I thought "Old Girls" were only fast in fairly tales
Speed for other girls, but not for me
Jayne was out to get me (do do do do),that's the way it seems (do do do do)
Her win's disappointed all my dreams
Because I saw her race, and she's an achiever
She's got some pace, she'll leave you behind
She's so fast, ooooo, she's an achiever, you couldn't catch her if you tried (guitar riff )
I thought 2nd was more or less a given thing
It seemed the more I raced her, the more I lost
What's the use in trying (do do do do), cos even when you train (do do do do)
It's hard to get a victory over Jayne
Because I saw her race, and she's an achiever
She's got some pace, she'll leave you behind
She's so fast, ooooo, she's an achiever, you couldn't catch her if you tried (guitar riff )
Now she leaves us yet again the 3rd time around
Another farewell dinner so it seems
We will all be crying (do do do do), we will all be in pain (do do do do)
As there will be no sunshine without Jayne
We'll never see her face, now she's gonna leave us
Not a trace, of the Pom in our minds
She'll be gone…ooooo, were gonna miss her, she's gonna leave us far behind
She's an achiever yeah yeah yeah yeah yeah
She's an achiever
Joanne Troutman