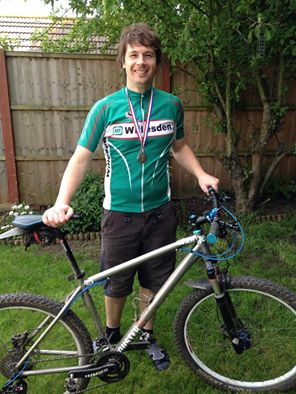 Here goes with this week's results.
Down at Hillingdon on Tuesday evening in the BC West Thames 3/4 event Tony Lusardi was 11th, son Darryl 14th and in spite of a puncture Ryan Fineston finished 19th.
On Sunday they rode in the supporting race for the Women' Grand Prix being held at Hillingdon finishing Darryl 11th, Ryan 28th and Tony 34th.
At Black Park Rich Cooper was awarded 2nd place in the 3 lap category, his highest finish ever, in the Mountain Bike event organised by the West Drayton Mountain Bike Club. (pictured)
Jayne Paine went to Hog Hill on Thursday to finish in 2nd place.
At Welwyn track on Friday night Roger Woodford was 2nd in the 10 lap sprint. In the Hare and hounds event the hounds caught the hare and Roger lead out the sprint to win convincinly. The 10 mile event was run at a very fast pace finishing in 21 minutes with both Roger and young nephew Connor finishing in the leading group.
All for now,
Gladys