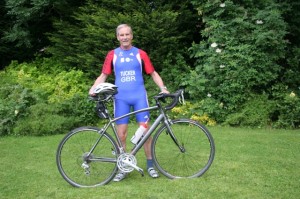 The National Duathlon Championships were held in Cambridgeshire and Ray Tucker won  a silver medal in the O/70 category behind Britain's no.1, Brian Grierson.  Here is a brief report:
The weather was very warm, reaching 21C which made the final run very gruelling. There was also a 30mph wind blowing from the south and in places and Ray had great difficulty staying on the bike during the cycle phase – and he does not have disc wheels!!  20 competitors didn't complete the course, 3 or 4 for mechanical reasons. The medals were presented by James Cracknell, the double olympic rowing gold medallist, who also competed in the race and finished 2nd O/40. James Cracknell has now been selected in the British Team for the World Champs in Ottawa in August.
Well done Ray –  now you can do the sprint or shorter duathlon race for GB in Canada.  Go Ray, Go!