Mark Brooking went the last weekend's Audax UK AGM and Prizegiving and came back with this report…
The Audax do was a hoot as ever. Willesden came away with quite a haul – VC167 were not amused as they got nothing!So :-
Peter Turnbull – Mens individual champion.
Liam Fitzpatrick – Services to AUK Award (something to do with publicity)
Willesden CC – Club championship (won by the top 6 points totals – Peter Turnbull, Paul Stewart, Mel Kirkland,Martin Lucas, Richard Jennings & Liam Fitzpatrick.)
A pretty good haul.
Arabella Maude won the Ladies fixed wheel points championship & got a 'Mugs' award for stoking a tandem trike for 1230km in a somewhat toxic environment.
Damon Peacocks DVD has some marvelous footage with Paul Stewart nodding off in the background of a lengthy interview. He knows how to get in a state!!
Photo by Chris Smith.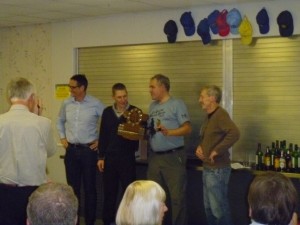 Some added photos from Ken Turnbull: