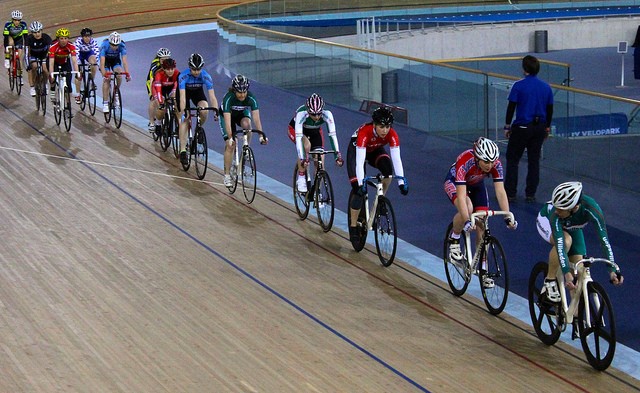 Another great night for the Willesden last Thursday at the track league in Stratford!
In the women's events Jayne and Marianne were both riding very well. Jayne further cemented her 2nd place in the league table with a 1st in the opening 30 lap scratch race followed by a 2nd in both the Points and 40 lap scratch races. Jayne was called out early in the elimination while Marianne continued to give the Willesden spectators someone to cheer for! I really enjoy watching the women racing, the competition is fierce!
The large group of Willesden supporters also had plenty to watch in the men's races. In the opening scratch I (Tom) attacked from the gun but only ever gained a third of a lap advantage before being joined by a PMR@Thachim rider by which time I had sat up totally knackered. Connor was looking strong for the rest of the race and finished it off in 2nd behind Stephen Vinning (East London Velo).
In the points race we both managed to grab a handful with Connor finishing 3rd and me 4th. Ian Prenelle (Finsbury Park CC) took the top spot which has helped him close in on Connor's overall lead.
The elimination was next up and we both stayed out of trouble until there were only three or four eliminations left at which point I was called out for riding on the blue, bugger, that will teach me! Connor made it to the final sprint where Paul Morton (PMR@Toachim House) led from the front. Only Connor was able to hold Morton's wheel who showing his strength took 1st place with Connor just behind.
The final scratch race of the evening followed where eventually a break formed with both Connor and myself in the mix. When it came down to the last few laps I could only watch as the sprint started and the others started to pull away. Connor took a fine 1st place and with it maximum points in the league table, I think I was 6th or so.
In the overall competition Connor is still leading by 26 points. Just behind is Andrew Smith (unattached) who is in the other C group racing while we are off the track. Andrew won every race he rode and gained 40 points on the night while Connor picked up 32. The C league has the closest competition for the overall win in the whole series!
Full Gas have added two additional nights of racing for the Women and C groups starting with tonight where Connor will be defending his lead. The final Thursday night meeting will be the 26th of March at 7pm.
We had a great group of supporters in the stands and hope to see them again next week!
Full Results
Overall Standings
Jody Coxon was kind enough to send over some great photos from the meet.
Thanks Jody! See the Willesden gallery on Jody's Flickr page here.