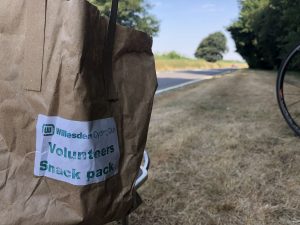 Tony Flynn, WCC Time Trial Secretary, has provided the following report. Thanks to Tony and Trish for doing a superb job of organising and looking after club volunteers on another hot morning.
The West London Combine 50m TT on 8 July was organised by Tony Flynn for Willesden Cycling Club at Great Missenden.  The event went really well with some impressive times.
The event was won by Ben Allen from the Westerley CC with a time of 1:55:03.  The full results are here: Results Sheet
A big thank you to all of the Volunteers: Ray Kelly, John Wheatley and Roger Woolsey (Westerley CC) for the timekeeping team.
Gill and Derek Reynolds, Gerry McManus, Brian Moon and Roland Colicott (westerly cc) for Marshalling.
Ann Woolsey (Westerley CC) and for running the kitchen.
Thanks all, Tony Flynn