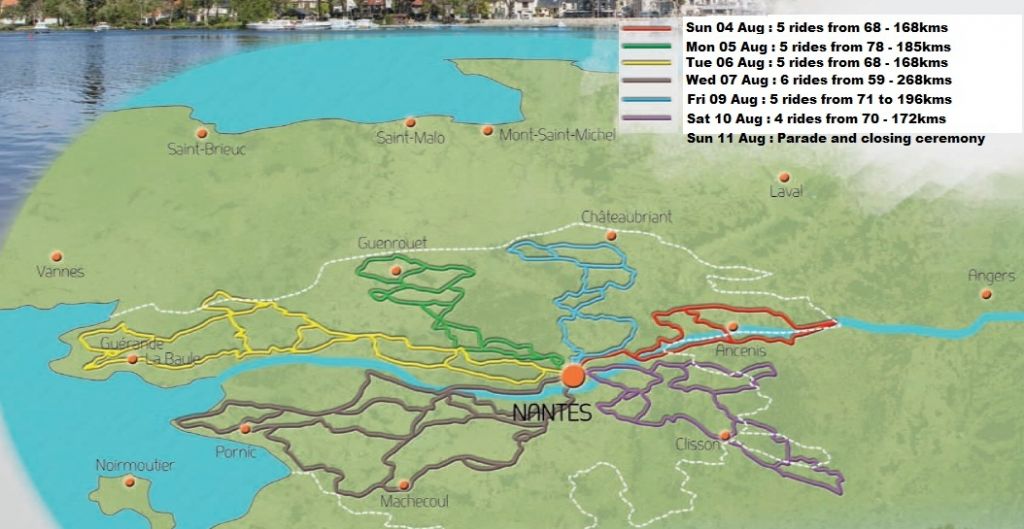 Each year the FFCT (Fédération Française de cyclotourisme) organises their wonderful "Semaine Federale", a superb week of cycling and socialising attended by over 10,000 cyclists from across France and Europe. It is a non-competitive week of cycle touring around a different region of France each year. Each region selected to host the event pulls out all the stops to showcase the history, produce and beauty of their area with four or five fully sign-posted rides to choose from each day ranging in length from 70 to 200km depending on your appetite (and you will surely have one).
Willesden CC members have been going to this event for many years and it is certainly to be highly recommended. Not only is it great fun but it is also preposterously cheap …..OK, I thought that would get your attention….!! For example at the 2012 Semaine Federale, all entry and camping fees fees for a family of four (that's Mum, Dad and two children under 18) came to just €148.00 for the whole
week. You can either self cater at the camping site or you can ride to the Semaine Federale Village for your evening meal, which is €14/head. This is a proper multi-course full-on meal including wine, water and bread. If you do not wish to camp then dormitory-style accommodation is around €135 per person per week. Ok, this is more expensive than camping but it is still a bargain.
The 2013 Semaine Federale will be held from 3rd to 11th August in Nantes in the Pays-de-la-Loire region of Western France. Nantes is around 177km from St Malo, which has a direct ferry service to Portsmouth. Other ports are also available, including Le Harve (384km), Caen (300 km), Cherbourg (339km) or Calais (600km).
Full details of the week can be found at http://www.sf2013-nantes.org, though the site is mainly in French there is an English page providing some high level information.
The itinerary for the week is as follows –
Sat 03 Aug : Pick up registration documents and set up "Camp Willesden" at the Semaine Federale camping site.
Sun 04 Aug : 5 rides to NE of Nantes. Distances 68 to 168kms
Mon 05 Aug : 5 rides to NW of Nantes. Distances 78 to 185kms
Tue 06 Aug : 5 rides to W of Nantes. Distances 68 to 168kms
Wed 07 Aug : 6 rides to SW of Nantes (Two start points). Distances 59 to 268kms
Thu 08 Aug : Picnic day – no rides
Fri 09 Aug : 5 rides to N of Nantes. Distances 71 to 196kms
Sat 10 Aug : 4 rides to SW of Nantes. Distances 70 to 172kms
Sun 11 Aug : Parade and closing ceremony
I am happy to help anyone with the registration process, which will be open from early January. I will be able to confirm the 2013 costs as soon as the Semaine Federale organising committee publish them,
Miles Back