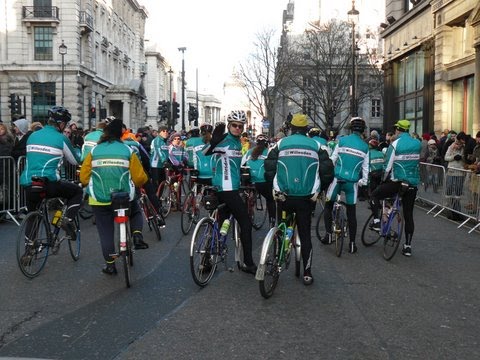 Once again the Willesden CC will be taking part in London's New Years Day parade. The 2012 event will be the 26th Anniversary of the parade and in that short time it has become the world's largest. More than half a million people are expected to line the two mile route that weaves past all the London landmarks. The event is televised around the world with the BBC, CNN, Fox news, SKY and CBS expected to cover the event. As a Willesden CC member you can be part of this fabulous day out and it is completely free.
The theme of this year's event is the Olympic games. Ray Kelly is planning to organise fun style racing to keep the crowd and us entertained. So show off your best WCC kit and poshest bike for the day.
The Parade starts at 11.45am on Piccadilly at the junction with Berkeley Street outside the Ritz Hotel and finishes around 3pm at Parliament Street. However, come earlier for a cup of tea and a bit of food!
The Parade route is – Piccadilly, Piccadilly Circus, Lower Regent Street, Waterloo Place, Pall Mall, Cockspur Street, Trafalgar Square, Whitehall and Parliament Street. Our lead car (driven by Julie May) will be parked up after our route is complete on one of the side streets off Millbank for more refreshments, just follow the car!
More details of the whole parade can be found here: http://www.londonparade.co.uk/
If you need to know what date it is on then the clue is in the title!
Miles Back
18 December 2011