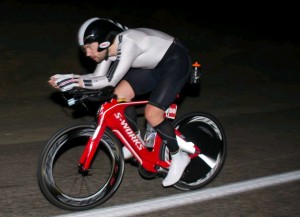 Yep, you read that right! At the weekend Willesden CC rider Stuart Birnie romped home in first place at the 6-12-24 Hour World Time Trial Championships held in Borrego Springs, California.
In very windy conditions he covered 493 miles at an average pace of 21.5 mph to take first place in the 30-39 age category as well as the overall male win.
Hot on Stuart's heels was (former) Willesden rider Muerig James, who came second in the 30-39 age category and second on the overall podium with 484 miles at 20.3 mph average.
As soon as Stuart can peel his hands off his low profile bars I'm sure he will send us more photos and a report on the ride. "Well Done Hippy" sounds rather weak and very British – in reality we are all completely awestruck with his performance and amazing achievement. Chapeau!
PS: Stuart (and the Willesden CC) also get a mention in the Australian press see here