After a terrible first race of 2013 the previous week, I was a bit unsure that all of the winter training I'd done had been worthwhile. It didn't help that when both Kenny Ross and I were in the car park that it was horribly cold and the sight of lots of fast looking cyclists made me wished I'd stayed in bed.
Both Kenny and myself had chatted in the week about how to approach the race, I was concious that Colin Roshier was riding in our race and that he was likely to want to split the race up, whilst I normally try to get myself into a decent break away, most the races that I enter at my level tend to finish in a bunch sprint so I wasn't sure how best to use my energy.
This was Kenny's first Road race he was the first Willesden rider home from the recent reliability ride, so Kenny definitely has some good form. We really wanted to make sure we made something of the race.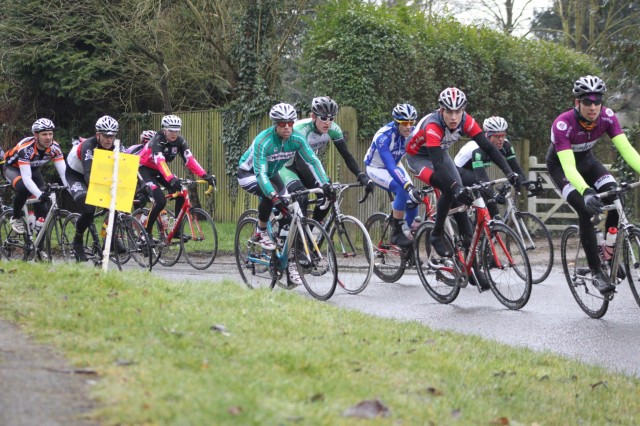 The first lap was really fast, everyone had fresh legs and despite the cold weather, they really wanted to race. It was quite early on that Colin made his first move and I happened to be in a good position to go with him. A couple of other riders jumped across but we weren't able to put any distance between ourselves and the bunch. This situation repeated itself throughout the race.
The road surface was worse than I expected but I had been warned about this and I rode my training wheels and used pretty tough tyres as I didn't want a puncture to ruin my race. As the race went on I realised that Colin was getting tired and a break away was unlikely to happen so I decided to rest a bit for the last lap and the eventual sprint.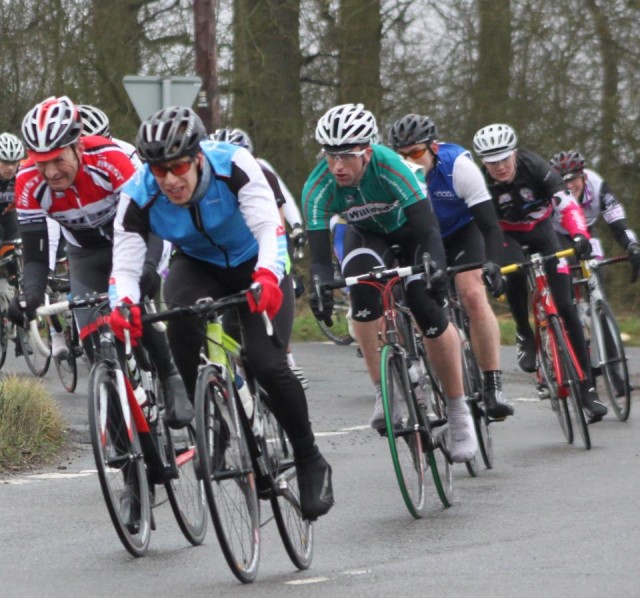 Kenny started to move up through the bunch and I think he had the legs for a sprint but about 2 miles from the end a rider fell. Kenny was caught behind the crash a little which effectively meant he wasn't  in a position to sprint, a real shame because he's been going so well.
I'd kept myself near the front and after a bit of fighting for position we started the final small climb, I was probably about 7th-8th place, just where I needed to be. Then there was a slight hesitation from the riders in front and all of a sudden two riders from GS Henley came flying past us on the right hand side. They had timed it really well as they had timed it so that they were able to carry their speed up the hill and onto the short finishing straight.
I hit the pedals as hard as I could to follow them and I was hoping they would fade before the line but they didn't but I kept pedalling and held on and came over the line in 10th place. The race was won by James Locker of V-Sprint, who managed to get around the two GS Henley riders before the line. Full results below.
Thanks to Hemel Hempstead CC for organising the race and Adam and Karla from High Wycombe CC for the photos.
The Spring Chicken RR  
Pos No Name Club / Team
1 63 James Locker V- Sprint
2 41 Jordan Bason MG-Maxifuel Pro Cycling
3 20 Hamish Floyd G.S. Henley
4 19 James Archibald G.S. Henley
5 2 Edward Palfreeman Arbis – Colbert Cycles RT
6 10 Harry Walton Cheltenham & County CC
7 77 Andrew Daniels Zappi's Cycling Club
8 69 Henry Farrell Welwyn Whls CC
9 42 Joe Fox MG-Maxifuel Pro Cycling
10 72 Richard Jerome Willesden Cycling Club
11 84 Trevor Ormes Velo Schils – Interbike RT
12 85 Shaun Culpin Witham Wheelers Cycling Club
13 80 Stephen Shellard
14 68 Ryan Whitchell Welwyn Whls CC
15 27 Karla Boddy High Wycombe Cycling Club
16 32 Neil Heffernan Inverse/ Cycling Components RT
17 37 Chris Grange LBRCC-Solgar
18 21 James Milligan G.S. Henley
19 36 Ian Baynes LBRCC-Solgar
20 60 John Lacey TMG Horizon Cycling Team
21 17 David Emms Didcot Phoenix CC
22 83 Paul Dring Team Echelon – Rotor
23 75 Matthew Exley www twenty3c.co.uk
24 26 Sam Williamson Hemel Hempstead CC
25 35 Desmond Gayler Kenton RC
26 54 Richard John Spirit Bikes Racing Team
27 31 Jeff Roberts High Wycombe Cycling Club
28 56 Fraser Houston Team Quest – The Bike Shop
29 66 Campbell Noon Virgin Active
30 14 Ellis Dudley Cycle Club Ashwell (CCA)
31 1 Justin Garon Arbis – Colbert Cycles RT
32 91 Ben Howard Tri Harder
33 74 Lindz Barral www twenty3c.co.uk
34 6 Luke Souter Banbury Star CC
35 46 Michael Miach Pretorius Bikes
36 73 Kenneth Ross Willesden Cycling Club
37 24 Ben Crone Halesowen A & CC
38 11 Matthew Coulter Cowley Road Condors
39 4 Jason Pitt AW Cycles
40 71 Ben Smith Welwyn Whls CC
41 82 Thomas McLaren East London Vélo
42 52 Tristan Grigalis Southampton University RC
43 45 Tim Clark Personal Best Cycling Services
44 80 Stephen Shellard
45 8 David Weir Bio Cadenza RT
46 58 Colin Roshier Team Quest – The Bike Shop
47 89 Andrew Bower High Wycombe Cycling Club
48 62 Neil Harris University of York CC