This interesting enquiry was emailed today to us by a Roger Hawkins
"I have been doing some research into the history of an early 1960's Viking track bike now in my ownership. Apparently the bike was used in the 1967 Earls Court 6 days event.
It is my understanding this bike was once in the possession of a gentleman called Ken Daniels and was ridden by Ken in the 6 days whilst a member of Willesden Cycling Club.
The bike has been resprayed at some point, plus it is in need of some TLC and maybe some restoration. It would be nice to get some idea of the frame's original colour, spec. etc.
Mr Daniels would now be in his mid 70's. Would the club still be in touch with Mr Daniels?, or have any colour photographs in its archives of the event featuring this particular bike?"
Roger supplied a  photo of the bike and some additional details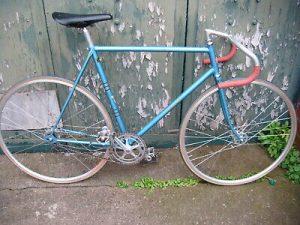 "I purchased the bike on Ebay from a chap called Paul who lives in Nottingham. Paul told me he purchased the bike from Ken around 15 years ago and travelled down to west London to pick it up. Ken passed some of the bike's history on to Paul.
Roger would love to restore the bike to as it was in 1967, if possible.
Can anyone help? I will pass on Roger's contact details if you can.
Ian Oliver