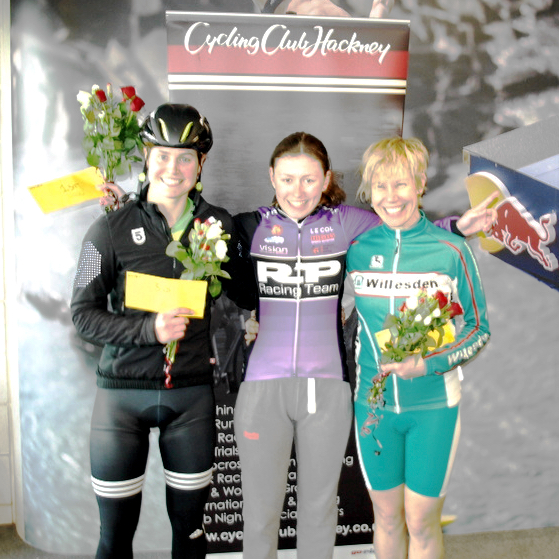 Jayne Paine: I got a 2nd place in the CC Hackney Primavera E1234 race at Lee Valley Circuit Saturday, beaten on the line by Maddie Gammon.
Funny race – terribly slow. Only me and Detta Guerrini having an attack or keeping the pace up. Lazy lot. I attacked and then there was a wee crash behind me which I took full advantage of 🙂 . I was out on my own for 4 laps with 2 to go (nasty cold wind). I eased up when I saw the bunch catching. I did another half lap with a girl who had been chasing, then as the bunch shot past us, with surprising speed I jumped in with them. Should have gone to Specsavers – the girls were actually men so I swung out milliseconds later.
The sprint finish was just between me and Maddie Gammons, into the back and through the men's race. I lost my bottle and settled for 2nd. But I was well chuffed with 2nd as I have been a bit out of kilter lately – bogged down with work and weddings. Knackered.
I have a circuit race at Gravesend (E12) next Saturday and a town centre crit at Ixworth on the Monday. Fingers crossed
Full Results:
Place Name Club/team
1 Madeleine Gammons RP Vision Racing Team
2 Jayne Paine Willesden Cycling Club
3 Sophie Edmondson The 5th Floor Cycle Club
4 Chloe Cook
5 Hannah Troop Pretorius
6 Ali Peate Panagua CC
7 Claire Hammond TCC
8 Tina Winzer Dulwich Paragon CC
9 Adeline Moreau The 5th Floor Cycle Club
10 Michelle Arthurs Maison Du Velo
11 Victoria Strila PMR@Toachim House
12 Aoife Doherty The 5th Floor Cycle Club
13 Lesley Courtney Welwyn Wheelers CC
14 Christina Chymera Lea Valley CC
15 Karin Brameld Pearson Cycling Club
16 Suzette Guerrini Team Footon Velosport
17 Caroline Pulford NLT CBMBC