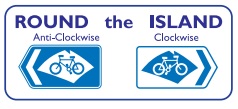 The 2015 Isle of Wight Randonnee will be held on Sunday 3rd May 2015. As is now the custom it will be run in a clockwise direction and there is a choice of two rides. The 100km route involves a complete circumnavigation of the Isle, while the 55km rides takes in the NW quarter of the island with an excursion inland to Newport.
The event starts at 9am from any of the control points and this year entrants will be limited to 2,000 places only.  To register online asap please go to http://www.cycleisland.co.uk/index.php…
Please note
The IoW Randonnee clashes with the Condor Cycles 3-day Stage race, where the Willesden CC will be organising the second stage (Sunday 3rd May 15) at Hillingdon, so volunteers will be much needed here.
Miles B.