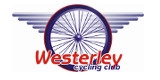 Hi folks
The very kind invitation below has come through from our friends at the Westerley CC for their 90th anniversary celebrations:
Westerley are having their club dinner on 29th November we have multiple national champions Andy and Jill Wilkinson as guest speakers for this, the address is:

Stanmore Golf Club
Gordon Avenue
Stanmore HA7 2RL
Saturday, 29 November 2014
7:00 for 7:30 pm

So if any your members wish to join us for our 90th celebration then you are more than welcome, it is £32.50 per person. Booking can be made by our website or by contacting me direct.

I hope to speak to you soon

Thanks

Ian McNally
Social Secretary
Westerley CC
If you have any enquiries, you can reach Ian by emailing him.
🙂
CZ x
Event: Westerley Cycling Club 90th Anniversary Annual Dinner
Date: Saturday 29 November 2014
Time: 19:00 for dining at 19:30
Price: £32.50 per person
Venue: Stanmore Golf Club, Gordon Avenue, Stanmore HA7 2RL
Enquiries: Email Ian McNally, Social Secretary, Westerley CC or visit the Westerley website