The Hillingdon Slipstreamers are pleased to announce that they have secured Monday nights for-
1. Youth only coaching sessions.
2. A full Summer Race programme
3. A 6 date Go-Ride series.
Coaching
The season will kick off with three "Coach Led Racing" sessions on
30th March (Sunset 19:30),
06th April (Sunset 19:41),
and
13th April (Sunset 19:53).
These sessions are open to anyone wishing to ride the Monday night summer series. It will enable riders to become fully familiar with the  Hillingdon Cycle Circuit in a race scenario and coaches will be on hand to explain the racing etiquette necessary to ride safely on the circuit.  There will be race scenarios to practice, possibly in teams (dependent on numbers) and they will contain equal measures of coaching and training.
These coaching sessions are open to all youth riders between the ages 7 and 16 at a cost of £5 per session. You do not need to be a British Cycling member or hold a race licence for this block of training.
The Clubhouse will be open from approx. 17:30 for signing-on and registration with Coaching sessions starting at 18:00.
Summer Race Series
The Hillingdon Slipstreamers Summer Series starts for real on Monday 27th April. The events are still in the registration process, but the provisional calendar is as follows-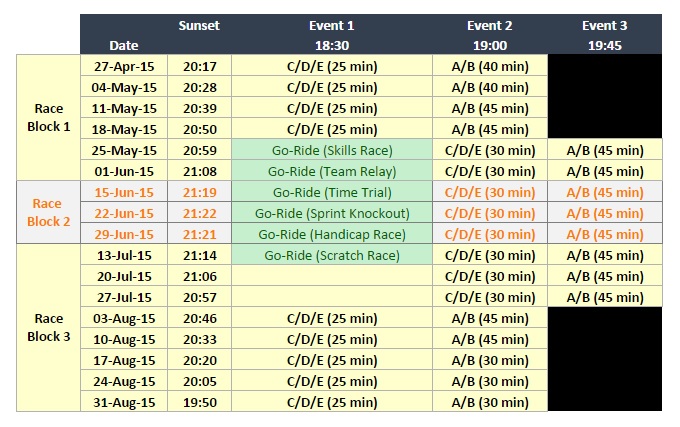 Go-Ride Series
With the arrival of the longer evenings, the Slipstreamers have been able to host the following Go-Ride events on Mondays for the new or less experienced young racer
25th May, 15
01st June, 15
15th June, 15
22nd June, 15
29th June, 15
13th July, 15
Signing-on and registration will start at 18:00 and the Go-Ride races will take place between 18:30 and 19:00.
Location
The Hillingdon Cycle Circuit is located within Minet Park in Hayes in West London. It is on the east side of the A312 Hayes Bypass at the A4020 Uxbridge Road roundabout about one and a half miles north of M4 junction 3. The entrance is in Springfield Road off the A4020 Uxbridge Road.
The post code is UB4 0LP.
Happy racing!